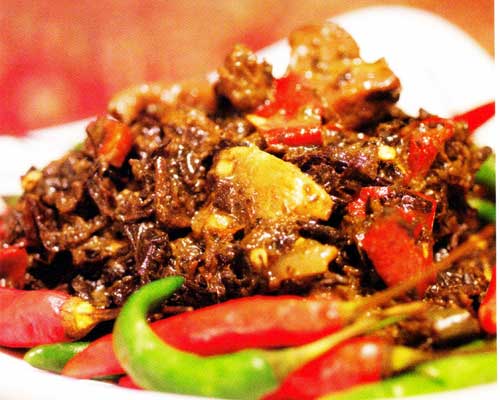 This spicy dish of taro leaves simmered in coconut milk comes from Bicol Region in the southern part of Luzon, where coconut milk and chilies feature as main ingredients in this Filipino cuisine.
Ingredients: (Serves 4)
1 kg (2lb 3oz) dried taro leaves
100 g (3½ oz) fermented prawn (shrimp) paste or use 45 g (1½ oz) dried prawn (shrimp) paste
300 g (11 oz) chicken thighs or drumsticks, deboned and cut into 1-cm (½-in) cubes
85 g (3 oz) red chilies, sliced diagonally
100 g (3½ oz) green chilies, sliced diagonally
25 g (1 oz) red bird's eye chilies, sliced
2 medium onions, peeled and sliced
5 cloves garlic, peeled and finely chopped
20 g (²⁄3 oz) Ginger, peeled and sliced
480 ml (16 fl oz/2 cups) thick coconut milk + 250 ml (8 fl oz) / 1 cup), mixed with 125 ml (4 fl oz/½ cup) water into a smooth paste
625 ml (20 fl oz/2½ cups) water
Salt to taste (optional)
Method:
Using your hands, shred taro leaves and discard hard stalks. Set aside. Heat a wok over medium heat and combine prawn paste, chicken, chilies, onions, garlic and ginger.
Gradually add taro leaves and stir to mix well. Add concentrated coconut milk and water and bring mixture to the boil. Reduce heat to medium low and leave to simmer for 10-15 minutes, or until taro leaves are soft and chicken is cooked. Stir mixture occasionally to prevent sticking.
Add diluted coconut milk and simmer until oil starts to exude from mixture and liquid is almost completely evaporated. Add salt to taste, if desired.
Dish out and serve immediately with plain rice.
Summary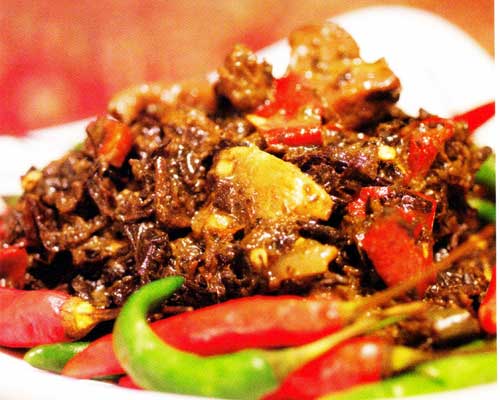 Recipe Name
Taro Leaves in Spicy Coconut Milk Recipe
Published On
Average Rating





Based on 8 Review(s)