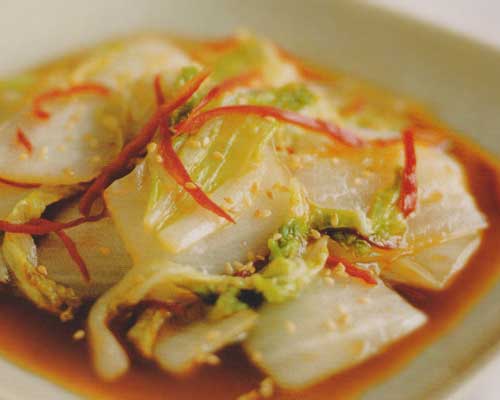 A simple stir-fry of cabbage with chili and peanut oil.
Ingredients: (Serves 2)
1 head, about 900 g (2 lb) Chinese cabbage
4-6 teaspoons rice vinegar or wine vinegar
4-6 teaspoons sugar
4-6 teaspoons light soy sauce
A large pinch of salt
1½ teaspoons tapioca or potato flour
4-5 tablespoons peanut or corn oil
1 large or 2 small red chilies, seeded and cut into thin strips
2-3 teaspoons sesame oil for sprinkling
Method:
Remove any tough leaves from Chinese cabbage, then halve the rest lengthways and slice across into 5-cm (2-in) strips. Mix vinegar, sugar, soy sauce, salt and tapioca or potato flour. Reserve.
Heat a wok until hot. Add 2-3 tablespoons oil and swirl it around. Add cabbage and stir-fry continuously for 5-6 minutes. If cabbage begins to burn, lower heat. The cabbage bulk will decrease. Transfer cabbage to a colander and drain.
Wipe wok dry and reheat it. Add remaining oil and swirl it around, then add chili strips and sauce. When sauce bubbles, add cabbage.
Stir and toss to let cabbage absorb sauce. When thoroughly hot, transfer to a serving dish. Sprinkle sesame oil over cabbage and serve immediately.
Summary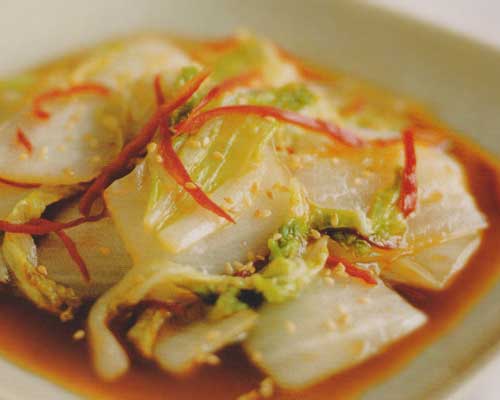 Recipe Name
Stir-Fried Sweet and Sour Cabbage Recipe
Published On
Average Rating





Based on 3 Review(s)