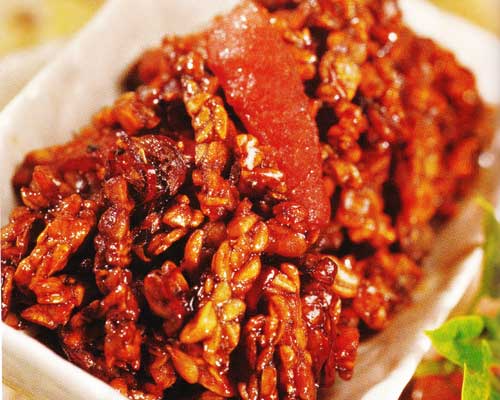 Fermented soy bean cakes, or tempe to the Indonesians, gain a distinctive nutty flavor when fried and are well complemented by the sweet soy sauce.
Ingredients:
400 g (14¹⁄3 oz) fermented soy bean cake
Cooking oil for deep-frying
2 tablespoons vegetable oil
60g (2¼ oz) shallots, peeled and sliced
40 g (1¹⁄3 oz) garlic, peeled and sliced
40g (1¹⁄3 oz) red chilies, large, seeded and finely sliced
30g (1 oz) galangal, peeled and sliced
20g (²⁄3 oz) palm sugar, chopped
3 tablespoons sweet soy sauce
3 tablespoons vegetable stock
1 tomato, peeled, seeded and cut into strips
A pinch of salt
4 bird's eye chilies, chopped
Method:
Slice fermented soy bean cake into equal-size strips. Heat sufficient oil for deep-frying until medium-hot. Lower in soy bean cake pieces and fry until golden and crisp. Drain on absorbent paper towels.
Heat 2 tablespoons oil in a frying pan. Add shallots, garlic, chilies and galangal. Saute for 2-4 minutes.
Add palm sugar and sweet soy sauce. Continue to saute until evenly glazed.
Add stock and when it boils, add tomato and sauté for 1 minute. Add fried soy bean cake and stir frequently until sauce has reduced and caramelized.
Season to taste with salt and stir in bird's eye chilies, if using, just before serving.
Summary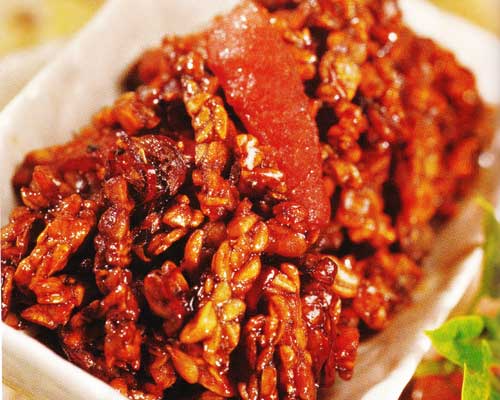 Recipe Name
Fermented Soy Bean Cake in Sweet Soy Sauce Recipe
Published On
Average Rating





Based on 4 Review(s)