Crispy Five-Spice Chicken Recipe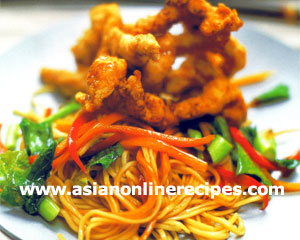 Tender strips of chicken fillet, with a delicately spiced rice flour coating, become deliciously crisp and golden when shallow-fried in a hot wok. They make a great meal served on a bed of stir-fried noodles with sweet peppers and broccoli. The coating also works well on thin strips of fish. When frying the fish, it is best to cook just a few pieces at once, so the oil stays hot. Use a draining rack clipped to the side of the wok, and drain each batch while cooking the next.
Ingredients: (Serves 4)
200 g/7 oz thin egg noodles
30 ml/2 tablespoons sunflower oil
2 garlic cloves, very thinly sliced
1 fresh red chili, seeded and very thinly sliced
½ red (bell) pepper, seeded and very thinly sliced
300 g/11 oz carrots, peeled and cut into thin strips
300 g/11 oz Chinese broccoli or Chinese greens, roughly sliced
45 ml/3 tablespoons hoisin sauce
45 ml/3 tablespoon soy sauce
15 ml/1 tablespoon caster (superfine) sugar
4 skinless chicken breast fillets, cut into strips
2 eggs whites, lightly beaten
115 g/4 oz/1 cup rice flour
15 ml/1 tablespoon five-spice powder
Salt and ground black pepper
Vegetable oil, for frying
Method: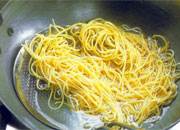 Cook the noodles in boiling water for 2-4 minutes, or according to the packet instructions, drain and set aside. Heat a wok, add the sunflower oil, and when it is hot add the garlic, chili, red pepper, carrots and the broccoli or greens. Stir-fry over a high heat for 2-3 minutes.
Add the sauces and sugar to the wok and cook for a further 2-3 minutes. Add the drained noodles, toss to combine, then remove from the heat, cover and keep warm.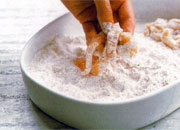 Dip the chicken strips into the egg white. Combine the rice flour and five-spice powder in a shallow dish and season. Add the chicken strips to the flour mixture and toss to coat. Heat about 2.5 cm/1 in oil in a clean wok. When hot, shallow-fry the chicken for 3-4 minutes until crisp and golden.
To serve, divide the noodle mixture between warmed plates or bowls and top each serving with the chicken.


Happy Cooking,
Carol