Curry Powder and Curry Paste / Shrimp Korma Recipe
Both are blends of many spices, but they are used differently. Dry curry powder cannot be fried in hot oil because it burns and turns acrid, so it must be added to foods that are already simmering in liquid.
For fried dishes it is best to use a curry paste. A large variety of good quality Indian curry paste, with regional flavors, is available in leading supermarkets. Experiment with them in casseroles and soups and decide which you prefer.
Southeast Asian curries, which derive mainly from southern India, will often have fresh ingredients such as lemon grass, sweet basil, galangal (an aromatic root of the ginger family) and garlic added to the ground spices.
Shrimp Korma Recipe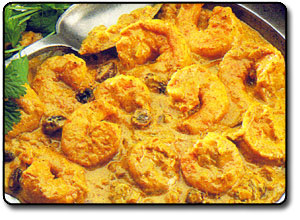 Ingredients: (Serves 4)
12 large green tiger shrimps, peeled
1 teaspoon ground turmeric
2 tablespoons vegetable oil
2 tablespoons chopped onion
1 teaspoon grated ginger
1 tablespoon seedless raisin
1 tablespoon ground almonds
2 teaspoons sugar
300 ml natural yoghurt
1 teaspoon salt
For the spice blend:
1 teaspoon ground cumin
2 teaspoons ground chili
1 tablespoon ground coriander
3 cardamom pods, crushed
Method:
Devein the shrimps, rub them with turmeric and leave for 30 minutes. Meanwhile, make up the spice blend with a teaspoon or so of cold water and stir to a soft paste. Heat the oil and fry the onion and ginger for a minute until they have just softened. Add the spice blend and fry for a further 2 minutes.
Add the remaining ingredients except the shrimps and simmer for about 10 minutes until the sauce thickens. Add the shrimps and cook for 5 minutes, or until pink.


Happy Cooking,
Carol