Chicken in Spiced Coconut Milk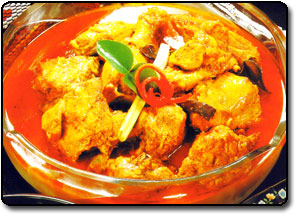 Learnt this cuisine from my mom quite some time ago. Back home, my mother used to cook this dish once in a while especially during the weekend when everyone would be home for dinner. From what I know, this is an Indonesian dish and is called Opor Manuk, if I am not mistaken. It may look just like any ordinary chicken curry but the taste is different.
Ingredients:
1 chicken, cut into 8 pieces
1 liter coconut milk from 1 coconut
3 tablespoons oil
2 cloves
5 cm cinnamon stick
Spices (ground)
8 red chilies
2 teaspoons coriander, roasted
1/4 teaspoon cumin, roasted
1 teaspoon black pepper
4 candlenuts, roasted
1 tablespoon chopped galangal
1/2 teaspoon chopped lesser galangal
1/2 teaspoon chopped ginger
8 shallots
4 cloves garlic
Salt and sugar to taste
Method:
Boil the chicken in coconut milk until it is half-cooked, remember to stir from time to time to avoid the coconut milk from curdling. Then heat the oil and saute those ground spices, cloves, cinnamon until they're fragrant, then add to the chicken. Simmer until the chicken is cooked and serve with steamed white rice.


Happy Cooking,
Carol