Where does ginger come from, and how is it used in our cooking?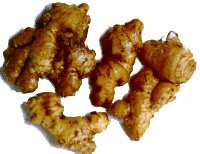 Ginger comes from Asia where it has been cultivated since ancient times for its warm flavor and is valued as an aid to digestion. The edible part is the rhizome, or root, and it may be used either fresh, dried, pickled or preserved.

In China, India, Japan and Southeast Asia, fresh ginger is very popular and used for a wide variety of savory dishes such as soups, curries, marinades, pickles and relishes. Western countries have used ground ginger for hundreds of years to flavor dishes such as gingerbread, biscuits and puddings.

To use fresh ginger, first peel the root, then chop it very finely or grate it on a fine grater. If you only want the juice and not the ginger itself for flavoring, crush it in a garlic press. Fresh ginger is used mostly in conjunction with other flavorings such as garlic, spring onions and chilies, for example in stir-fries. It also goes well with broccoli, red meat, chicken, noodles, rice and shellfish.

Steamed Fish with Ginger Recipe

Serves: 4

Preparation Time: 45 minutes

Cooking Time: 10 minutes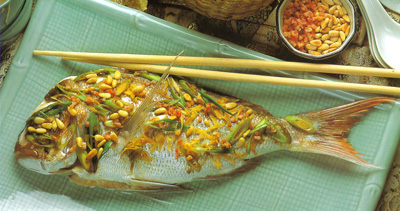 Ingredients:
1 x 750 g snapper, cleaned and scaled
2 tablespoons finely grated ginger
2 teaspoons dry sherry
2 tablespoons soy sauce
2 tablespoons peanut oil
2 teaspoons sesame oil
2 spring onions, finely sliced diagonally
1/2 cup pine nuts, toasted
1 rasher bacon, diced and cooked until crisp, optional
Method:
Wash the snapper, removing any remaining loose scales. Pat dry with absorbent paper. Place fish on a large heatproof dish; sprinkle with ginger, sherry and soy. Leave 30 minutes in the refrigerator.
Place a round cake-cooking rack in a wok and balance the dish on it. Carefully pour 6 to 8 cups of boiling water into the wok. Cover the wok and steam the fish over a rolling boil for 10 minutes.
Test for doneness by flaking a little flesh from the thickest part of the fish with a fork. It is ready when it flakes easily and is milky white. Turn off heat and keep dish covered.
Heat the oils in a small pan until very hot. Carefully remove fish on its dish from the wok. Sprinkle the spring onion over the fish, carefully pour on the hot oil. Garnish with nuts and bacon, if used. Serve at once with stir-fried vegetables and steamed rice.

Happy Cooking,
Carol